1. Make a Monetary Donation
2. Memorial and Honorary Gifts
There's no better way to remember or honor a loved one than by helping men and women in our community. Make a gift online and designate if you would like it to be memorial or honorary gift: www.havenofrest.cc/donate
Each memorial gift is acknowledged by a letter mailed to the family of the deceased.

Each honorary gift is acknowledged by a card sent to the honoree.
For more information on memorial or honorary gifts, contact our Connections Coordinator at 864-226-6193 ext. 103 or email info@havenofrest.cc
3. Vehicle Donation & Thrift Store Items
4. Donate Stock, Investments, Securities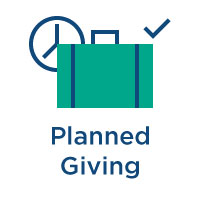 If you'd like to learn more about making a planned gift to Haven of Rest, please contact Stu Butler, Executive Director, at 864-226-6193 ext. 101 by email at stu.butler@havenofrest.cc
6. Matching Gift – Add even more value to your gift!
Matching gifts provide you with an easy way to potentially double, if not triple, your original donation. Many organizations will match their employees' gift (specifications of the match vary based upon each organization). In fact, your company, a spouse's company, the company whose board you serve or even a company that you retired from may match your gift.
If you are not sure if you qualify for a matching gift, please check with your company's human resources department. Contact us if you have questions!